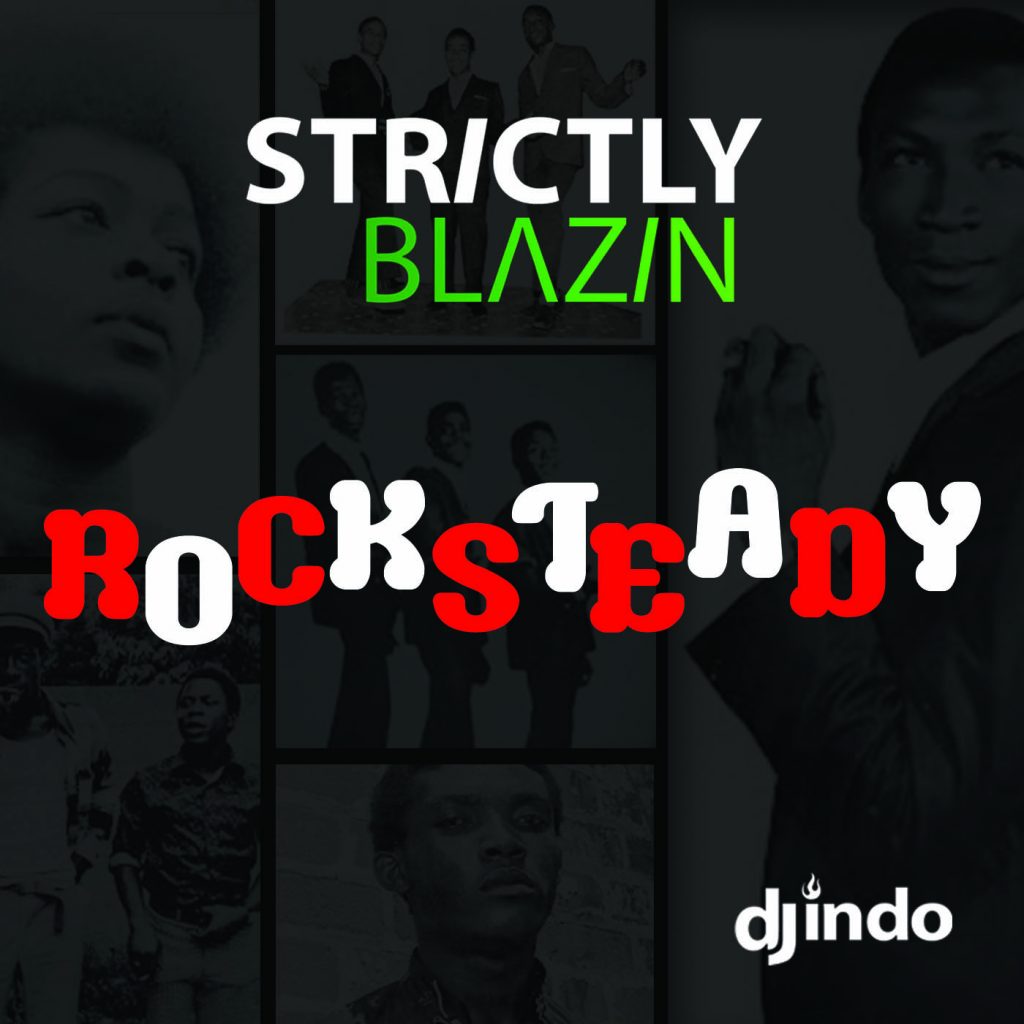 To automatically receive future episodes, subscribe in Itunes by clicking the link above. Follow on Facebook/Instagram/Twitter to stay up to date with new Strictly Blazin mixes and events:
https://www.facebook.com/strictlyblazin/
https://www.instagram.com/strictlyblazin/
https://twitter.com/strictlyblazin
Although only lasting from 1966-1968, Rocksteady's role as the foundation of reggae cannot be overstated. The riddims recorded during those years are still being versioned today. Every track featured on this mix is either a Rocksteady original, a remake of an original, or uses a classic Rocksteady riddim. The earliest tune on this mix was recorded in 1966 the latest in 2014. So here it is, from The Sensations, to Supercat, to Sean Paul, nearly 50 years of Rocksteady.
Tunes:
1.Ken Boothe-Lady With A Starlight 2.The Sensations-Those Guys 3.The Melodians-Come On Little Girl 4.Toots & The Maytals-54-46 5.Romain Virgo-Live My Life 6.Supercat-Boops 7.Gregory Isaacs-Loving Pauper 8.Pat Kelly-I'm In The Mood For Love 9.Jah Current-Be Myself Dubplate 10.Sanchez-Lonliness 11.Supercat, Frankie Paul,and Heavy D-Big & Ready 12.Anthony B-Jah No Dead 13.Ed Robinson-Midnight Hour 14.Hepcat-Rudies All Around 15.The Heptones-In The Mood 16.Terry Linen-The World's Greatest 17.Buju Banton& Queen Omega-Perfect Combination 18.Althea & Donna-Uptown Top Rankin (Remix) 19.Beres Hammond-Can't Stop A Man 20.Sean Paul & Sasha-I'm Still In Love 21.Tony Curtis-My Conversation Dubplate 22.Beres Hammond-Sweetness 23.Shaggy-Give Thanks & Praises 24.Freddie McGregor-Born A Winner 25.King Pyro & Asheba-Picture On The Wall 26.Toots, Shaggy, & Rahzel-Bam Bam 27.Tupac & Alton Ellis-Nothin Like Rocksteady 28.The Melodians-You Don't Need Me 29.Courtney John-Love Is 30.Bitty Mclean-I Got Love 31.The Melodians-Get Along Without You 32.The Paragons-Tide Is High 33.Alton Ellis-All My Tears 34.Derrick Harriot-Born To Love You 35.Luciano-Love & Devotion Dubplate 36.Turbulence-Ethiopia Awaits 37.Anthony B-Time For The Love 38.Junior Kelly-Love So Nice Dubplate 39.Fanton Mojah-Mama Hungry Papa Hungry Dubplate 40.Llyod Brown-Mr. Brown 41.Beenie Man-I've Got A Date 42.Red Fox-Right Pon TIme 43.Hopeton Lewis-Take It Easy 44.Phyllis Dillon-Don't Stay Away 45.Kes-Tuesday On The Rocks
Podcast: Play in new window | Download